Thomas Wallgren and Uddhab Pyakurel attended the World Social Forum 2018 in Salvador (Bahia), Brazil, from 13-17 of March 2018. Below are extracts from their report.
One of our main programs at the forum was on Fearless Cities for Just Transition Globally. Our proposal for a session was merged with a set of similar proposals and announced beforehand. Therefore people who were interested on the theme were interacting with each other before the forum and during it. That is why we could engage and made the theme visible. On this theme we both attended a discussion organized by Madre Tierra to discuss a global network of fearless cities and just transition and presented our objective to work on the theme. Also, our interaction with Prof. Ezzine, an urban sociologist from Morocco who is working on the theme 'child-friendly city initiatives' has helped us to understand aspects of children and youth. Towards the end of the forum we both attended a convergence meeting on Rights to the Cities on the where Thomas presented perspectives and proposals developed in the Vasudhaiva Kutumbakam Network.
Uddhab attended an initiative called Global University for Sustainability as a panelist to give his perspectives on community experiences for socio-economic and ecological justice with focus on Nepal. Uddhab stated that ecological problem is being created not by Nepali alone but by the intervention of the so-called developed countries and society. According to him, the problem will not be resolved unless both Global North and Global South realize their mistakes and decide to work together; the first to admit that there are different value systems, and the people living in Global South also need to overcome from inferiority complex to assert for new criteria based on ground reality. Other members of Panel were from Hong Kong, France, Brazil, India, Japan and China.
Basic Income Movement was another topic of interest for Uddhab as it was fairly new movement for him. He attended an event where many movement leaders including Paul Harnett, one of Board of Directors of the campaign organization based in Manchester, made their presentations. It is understood that there is a lot of interest for basic income around the world and the movement has already progressed in some places including the cities of Sao Paulo, and Maxico.
Systemic Alternatives was a theme for both of us to be engaged with. We attended a discussion where authors of the book by the Solon Foundation presented the context and content of the book.
This time WSF had allocated almost a half day to present future programs under the theme Agora where every participants were given chance to present how they are being engaged with Social Forum activities in the future. We both presented three major events namely (i) provincial level Social Forum in Nepal; (ii) Finish Social Forum in Helsinki, (iii) and South-North Dialogue on Systemic Alternatives in Malmo.
Reportedly there was a workshop in the WSF with former president of Brazil, Dilma Roussef. On one evening there was a separate event at a big stadium, with former president Lula da Silva (Brazil) and Manuel Zelaya (Honduras) were among the main speakers. This event was full of WSF banners, but not much advertised at the main forum site, The UFBA university campus. Some 5000 – 10000 persons were present.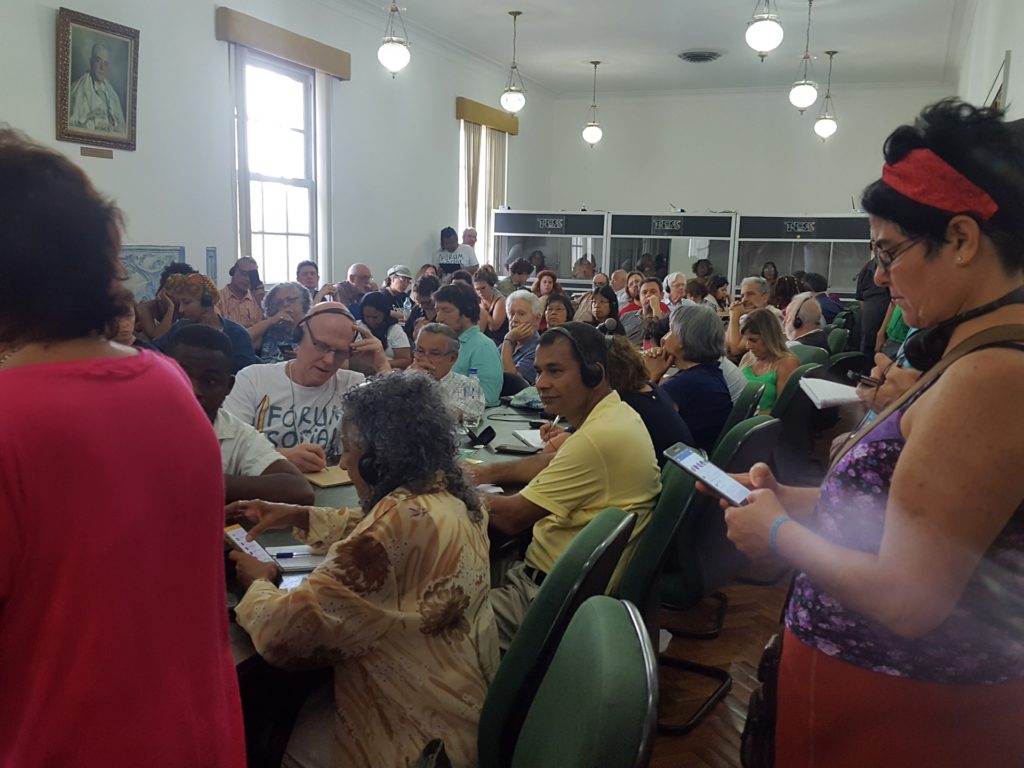 International Council (IC) and future of the WSF
At the end there was International Council of World Social Forum. In the first session the WSF 2018 was evaluated. The spirit of the meeting was remarkably warm and there were some nice interruptions with reading of poetry and singing together. Gina Vargas and Francine Mestrum chaired one session each and managed well to distribute speaking time democratically. Most of the speakers expressed their happiness saying that they were overwhelmed by the very successfully organised Salvador Forum. Many said that the forum was unexpectedly lively and energetic. The good number of participation (80 000, with estimated 10-20 % foreigners from 120 countries, over 2000 different activities according to other estimates) and the enthusiastic participation of locals, especially of Afro-american, indigenous communities and women and a great number (1200) of committed volunteers were often mentioned as success factors. It was mentioned too that there has been support of Federal and State Universities and Bahia state. – No incidences of violence and no visa problems have been recorded.
Some speakers, mostly non-Brazilians, highlighted weaknesses of the forum stating that it should not be considered as Global Forum. Some saw a lack of analytical and strategic political debates with too much emphasis on reports on activities. Lack of proper translation facilities, not having printed program and schedules in English language, failure to mobilize solidarity funds to bring international participants, etc were some other points raised.
The lively assembly of women working over several days was the only assembly whose declaration reached the IC.
The IC spent almost more than half its time discussing on the future of the WSF. A fair deal of the discussion consisted in brief reports about upcoming events and activities in the forum process. More than a dozen proposals were articulated from different parts of the world including, Panamazonic Forum in Colombia, Feminist forum in Buenos Aires, World Migrant Forum in Morocco, Solidarity Economy Conference in Barcelona, South-North Dialogue on Systematic Alternatives during the Degrowth Conference in Malmö, Norwegian and Finish Social Forum, Sustainability Conference in Hong Kong, etc. The spirit was forward looking and mutually supportive. The session also had some repetition from earlier years of the debate between those who want to continue WSF as it is existing today as open space; and those who want WSF to take positions and exercise political leadership choosing main themes, defining priorities etc. Both Thomas and Uddhab were of the view that the Social Forum process has its own importance and we should continue engaging with it unless there is new and better movement than this one.
The IC did not end up with any new overall solution to the problems of the WSF, but a proposal to have a long session about these matters at next IC meeting (either in Mexico or Morocco) in November to debate this further. Chico's proposal for IC members to sign an appeal against the everyday killing of afro-american youths including the recent murder of Council or Marielle Franco in Rio seems to have given sort of satisfaction to those who say they want a "more political" WSF and IC. The Kurdish delegation collected signatures from the IC concerning the situation in Afrin, Rojava (northern Syria).
At the end, there was sometimes allocated to discuss administrative and operational issues, esp. how to strengthen the WSF Secretariat and on communication and finance.
The IC decided gave a deadline up to May 31st for IC members to nominate 3 or 4 representatives from each region to work out a proposal for how to strengthen the WSF Secretariat. The IC Meeting also seeks to decide about the venue for the WSF in 2020 by the end of August through a virtual meeting. Proposals heard here include Salvador (Bahia), Mexico, and Switzerland.
Uddhab Pyakurel and Thomas Wallgren, 18.4.2018
Uddhab Pyakurel is Assistant Professor at the Kathmandu University and senior resource person of South Asian Dialogues on Ecological Democracy. Thomas Wallgren is senior lecturer at the University of Helsinki and member of Siemenpuu's working group on Just Transition to Ecological Democracy. Both are key members of the Vasudhaiva Kutumbakam Network.