[Ruby van der Wekken] From 13th to 15th November I had the pleasure of spending 48 hours with Siemenpuu partner South Asian Dialogues on Ecological Democracy in Nepal (SADED-Nepal), before heading on to India for a visit with its older sister organisation, SADED India.
SADED's goal is to create greater understanding on Ecological Democracy (environmental justice with equality), which SADED relates also to Swaraj (self–governance): to achieve Swaraj in the realm of Ecological Democracy. Swaraj denotes a comprehensive democracy incorporating economic, social, political, spiritual, cultural, gender, environmental and international dimensions. Swaraj stands for peoples participation and effective control over these various dimensions of life, and refers also to the enabling of people to participate and influence their society, the institutions of the state and governance effectively at all levels from a village level to the global. With this approach SADED has contributed since 2002 to a collective understanding that ecological crises needs to be addressed urgently in a comprehensive way and to generating pathways of the transition to ecologically sustainable systems.
Nepal has gone through a deep transformation in a decade from a country with a civil war and rule by an autocratic king to a rather peaceful country with one of the most democratic constitutions in the region. However, also in Nepal the political leadership is strongly aspiring to follow and 'test' a Western development model and displays a 'growth above all' thinking. This has resulted in a "growth fundamentalist" model that on a country level does not address the negative social and environmental consequences of this model and on an individual level contributes to large scale out-migration.
Within this context, Siemenpuu's partner SADED-Nepal points out that from an environmental point of view it feels it is the right time to engage with Nepali society in order to work out for a sustainable alternative. Nepal is by-and-large a rural society. Challenging the growth imperative and pointing to the sustainable, biodiversity upholding livelihoods of rural people is giving strength to a viewpoint that says their rural voices are valuable, and certainly not 'underdeveloped', in spite of what the media will tend to purport. Through grassroots dialogues SADED-Nepal engages in a critical manner with the dominant societal paradigm, and empowers people at grassroots level to increasingly come to understand and capacitate themselves as the subject of their own development. In this manner SADED-Nepal focuses on the themes of sustainable rebuilding (following the 2015 earthquake), biodiversity and agriculture, as well as youth and migration. The outputs of the dialogues are then on another level taken forth besides with local authorities also into national thematic platforms, to come to joint opinion forming with different actors, and to joint advocacy positions.
During my 48 hours in Nepal, we attended one such dialogue with Sherpa community members in Kuri, Dolakha District. Kuri is a 8 hours drive from Kathmandu, over in the end a steep, winding, graveling road, and at a height of some 3300 meters from the sea level. SADED-Nepal had started working with the place since 2014 and its team had visited six times earlier with the different community members, which include nomadic yak farmers as well as peoples engaged in tourism business in Kuri (setting up hotels etc.).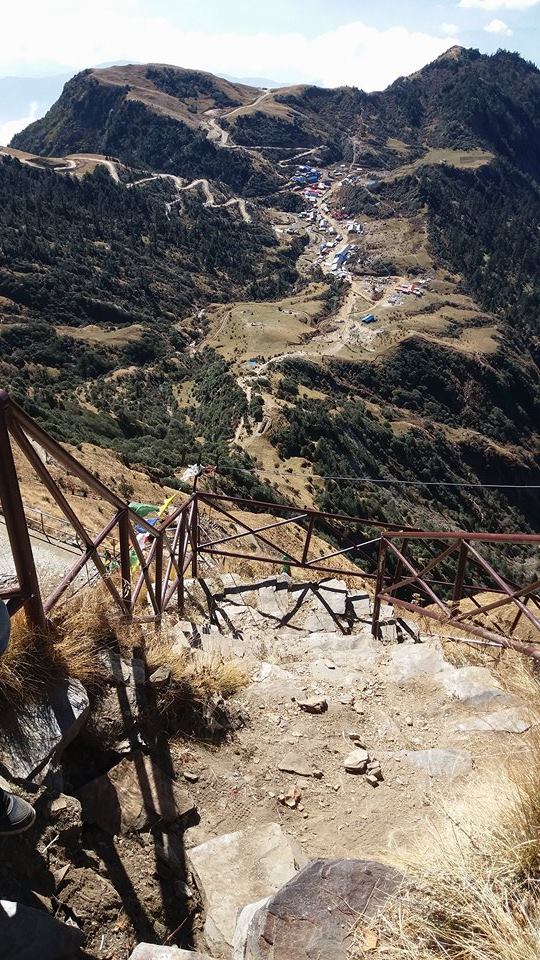 SADED-Nepal organised a Himalaya Day there in 2016, as to raise awareness among the local population on the precariousness of their environment, which whilst locally seemingly in such abundance, is increasingly under different kind of 'development' threats, as for instance a water crisis along with lesser snowfall and a quicker melting of ice due to global warming.  As a result, the Himalayan communities have been facing many challenges to continue with their major occupation that has been animal husbandry and small scale of farming of potato, barley etc. We could see upon arrival the first poles being erected which are going to uphold the cables of a cable car which will come to transport people to the Kalinchowk Bhagawati Temple pilgrimage site. As the community members had not yet arrived, I was suggested to take a stick and come along for 'a walk' –  and what a breath taking walk 3800m up to the temple site it was!  
I was told about how these developments were causing unrest and division in the communities. The community had come to notice that the absence of water at certain periods during the year was increasingly becoming a problem, and SADED had responded to this by facilitating the construction of four ponds, one of  which was recently finalized as model structure for the villagers. The ponds bottomed by plastic have the capacity to retain 30,000 liters of water in each pond. The water is to serve the yak farmers when they are coming down to the villages during the dry season (March to June), and as such to support this socially and ecologically indigenous (economic) practice. SADED told to be still advocating to the local rural municipality to be paying for a short pipeline to complete the water flow coming from the mountains. In the dialogues,  further more issues such as climate change and the importance of up keeping the regions biodiversity are discussed.
During the dialogue a sharp discussion arose among the participants principally between the yak farmers and other community members. One participant tried hard to defend her access to the pond for the hotel which she was involved in putting up. The discussion went from the privatization of water also in this blue mountain region, to the varying opinions as to how this translates on a local community level. SADED's role in the dialogue process was besides to accommodate the issue of how to reserve water in support of the yak farming, to moderate the discussion on the community members around their commons and the difficult issues they face, and empower them to bring their issues when necessary also in front of the local authorities. The community decided at the end of the dialogue that the Yak farmer will be in the priority to use water collected in the four ponds which were constructed with the help of SADED-Nepal, and more ponds will be made for others including hoteliers by mobilizing more resources, and personal donations.
SADED's supporting in Kuri of indigenous practices in contestation of so called 'development' steering towards unsustainable economic activity, connects much to another national conversation SADED is deeply engaged with, namely that of migration and youth.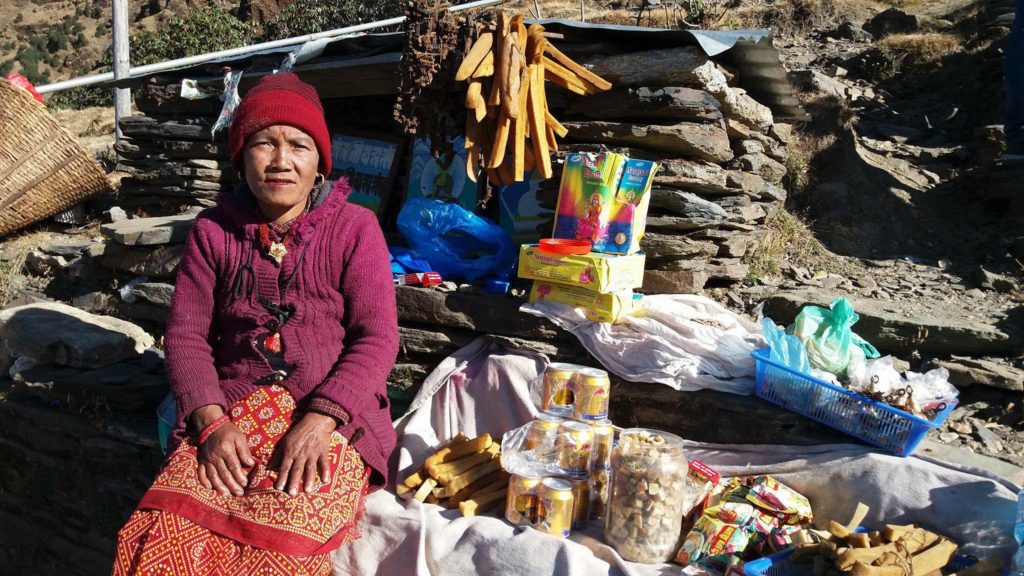 Nepal is seeing a lot of out-migration (for instance to the Gulf Countries, Malaysia, Korea, etc). More than 3.5 million youths of a country with 30 million total population are abroad as unskilled labour migrants, with remittances contributing to more than 30 percent of GDP. It is always said migration is happening due to unemployment. However, SADED emphasizes there is currently a serious deficit of labourers, and a need of some 700.000 labourers for reconstruction of the 2015 earthquake only. Currently labour is being imported from India and elsewhere for the process of rebuilding. Young working youths from villages go abroad in the hope of earning good money but in fact in many cases they live by and large a cumbersome life. They will however come back and still glorify the reality which eventually encourages more people to go abroad.
As SADED importantly points out, when so many at the local level carry the idea that the solution for the local economy is in fact migration, this makes it very difficult to find space for a political program which could be fruitful in the long run, and which would be catering to the development of a comprehensive democracy, including also ecological democracy. SADED therefore works with local bodies and policy makers on the issue of migration and takes information back to the villagers regarding data on local employment opportunities, real earning amount (comparing abroad and locally), the psychological phenomenon of being abroad and the sustainability of employment abroad. The aim of this is to discourage aspirants to leave their family and locality by informing about the 'pros' and 'cons' of migration.
During the trip I then also attended a 5-day youth camp on democracy in Kathmandu. The camp's organising partners including SADED-Nepal, had selected some 25 youth from different parts of the country, whilst aiming at including especially also youth from lower castes (though this proved to be a challenge), and paid attention to gender as well as the inclusion of handicapped people. I participated their session on economic democracy, in which I shared on Finland, on how growth remains the catch word of the day (whereas de-growth is what it should be for many), as well as on the methodology of Solidarity economy building and the paradigm shifting thinking of the Commons,  and we followingly had a nice conversation on alternatives. SADED has also facilitated the set up of a reading and learning circle in Kathmandu, where development critical literature is shared and analysed with the youth academia, and currently the circle will be meeting every two weeks around the theme of political ecology.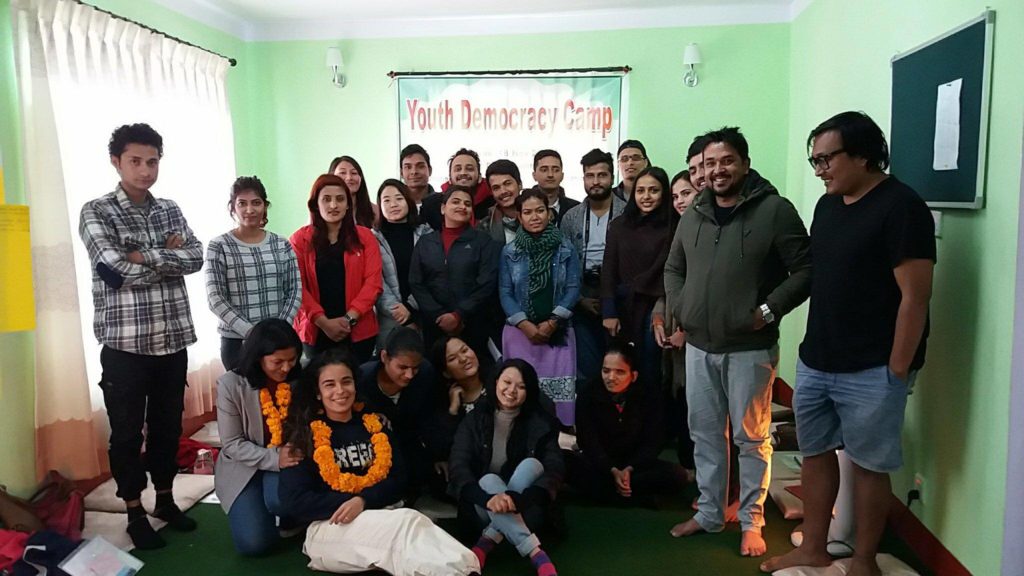 Also in breathtakingly stunning Nepal, hope lies with a youth increasingly conscious that what we call the economy must be to serve social and ecological objectives and as such put people as part of nature at the core of is workings. Dialogues, as part of the commoning around peoples commons, will remain an important part of this (to be continued in the next blog, and with the visit with SADED India).
Ruby van der Wekken, 12.12.2017
Writer works as Programme Coordinator with Siemenpuu Foundation