[Satu Ranta-Tyrkkö and Ruby van der Wekken] After Nepal (see Ruby's previous blog), the journey with South Asian Dialogues on Ecological Democracy (SADED) continued on 15-20 November in India. Also in India, the need for Ecological Democracy and the approach of SADED is clear. Also in India the negative trends of climate destabilisation, loss of biological diversity and increasingly authoritarian regimes continue despite the widely shared desire to prevent environmental crisis and to live in democratic societies.
To work on the level of concepts that link movements, intellectuals and political parties is therefore justified, and the SADED facilitated dialogues then want to foster a deeper understanding on the concepts and the alternatives involving diverse social sections and ideological streams. In the current project phase supported by Siemenpuu, SADED is doing so in particular by taking the today much referred to Sustainable Development Goals at hand, and to critically address them from an Ecological Democracy, a Swaraj (self governance) perspective. A publication is to follow on this. A main critique is that the Sustainable Development Goals and their 169 sub targets are being understood and interpreted in a variety of ways. Quite often, each goal is treated independently, and the interlinkages between goals tend to get lost.
For 16-17 November, our journey took us to Bihar. We flew from Delhi to Patna and from there drove onward to Muzzafarpur. During our visit we learned more on Bihar's student movement of the 1960s and 1970s, which developed under veteran Gandhian socialist Jayaprakash Narayan into the Bihar/ JP movement of democratic socialism, which then ousted the call for a peaceful 'total revolution' – process and which we understood from youth around to be inspirational also today.
The Bihar movement has had lots of cultural and social impact. Some of the people involved later went into political parties, some shifted to social work. And whilst the Congress party stifled different developments for decades, the legacy of the movements in Bihar is said to be huge, for example, in terms of addressing cast and religious identities and the treatment of dalits. Nowadays people have different aspirations than a few decades back, and they are conscious of their rights, daring to demand and expect more from the state. Overall, many of the contemporary movements that SADED supports and interacts with, such as those focusing on ecology and commons, are heirs of earlier movements and can be found all over the country and not just in Bihar.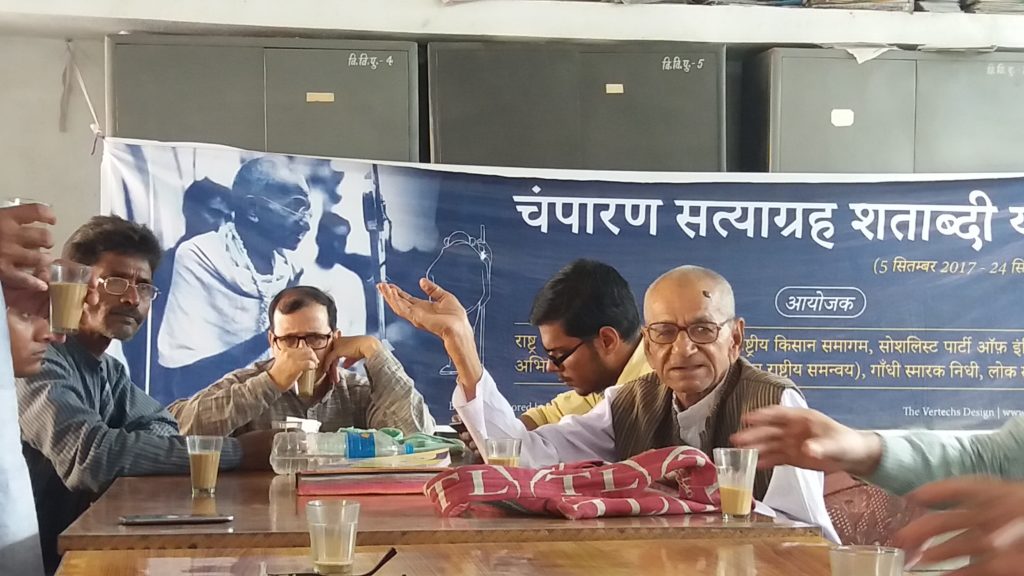 Bihar has made headlines also in Finland recently, because of the floods. Floods are historically a recurring phenomena in Bihar. As community members told when visiting with them, in the past they understood how to act when the floods came, and the floods in itself had a productive effect on the harvest. Today, with the dams built, the story is an entirely different one, with floods unpredictable in their behaviour and destroying more than giving. The floods are actually not (natural) floods. When we asked the community members what it was they would like to see see changed, they told it clearly: to be able to break the dams, and to be able to secure livelihoods. SADED has written about this, has interacted with movements on this, and movements have fervently campaigned around the issue of the dams, as for instance under the strong leadership of Medha Patkar. But as SADED then asks for itself, what is the change that has been able to be brought about.
India's civil society organisations are facing today a very difficult political climate. From SADED's perspective, if change is today difficult to get via the numbers (of the marginalised majorities), efforts are to be directed at a policy level. SADED then has been able to achieve direct results in the sphere of health. SADED in its work around health puts to the forefront that the SDGs do put to the forefront the right to local medicine, but leave unanswered a whole range of other questions with regards to the provision of health services, medicines used and whom certain policies might benefit; questions with regards to Health Swaraaj.
In the context of SADEDs work on health, we visited in Bihar with community members who had earlier been part of a survey which was part of a process in which SADED and others wanted to develop a tool which is foreseeing starvation. The background is that the definition of starvation death, which in India has focused more on whether and what the person ate before his/her death than the longer nutritional and economic situation of the deceased, is outdated. What's more, community health workers do not recognise undernutrition or malnutrition even when they are surrounded by it. In situations of more extreme distress (drought, starvation deaths), people are entitled to relief only after the situation has been assessed. Needed then is efficient recognition of early warning signs before the crisis is fully on.
Following the data collected by the survey, the suggestion of SADED and other has been to focus on early social indicators, such as unusual migration, mortgaging of household goods, and so on, in order to develop a concrete yet complex enough tool to recognise severing malnutrition before casualties take place. The survey process and tool development took place in 2014, and SADED is now wanting to take further the process with regards to advocacy for the tool to become a policy instrument.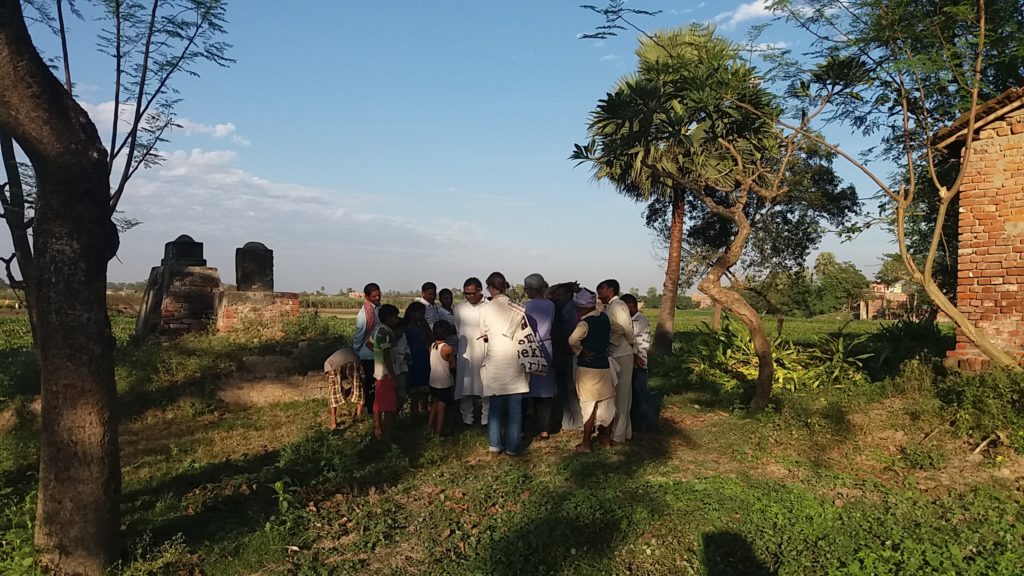 Another interesting example of SADEDs work around the promoting of health swaraaj is its working towards the promotion of the status and role of traditional health knowledge and practices, which has had an impact on a public policy level. India is estimated at having one million of traditional healers, and their recognition is sought for. So India's 12th Five Year Plan (2012-17) gave traditional health knowledge high prominence as a cross-cutting issue and the central government created a separate Ministry of Ayurveda, Yoga and Naturopathy, Unani, Siddha, Sowa Rigpa and Homeopathy (AYUSH) instead of merely a department within the Ministry of Health and Family Welfare.
In Delhi then we had a meeting of the Quality Council of India on the scheme for certification and training of traditional healers, with the Council's CEO and with staff who had been working towards the certification of traditional healers in India. A certification pilot was conducted during 2010-2012 in which SADED was also part of the framing, and it was interesting to hear how this large institution had come to deal with this for them extra-ordinary task to work through all the considerations that had to be made to come to define things like eligibility criteria, who can do the accreditation, the governing structure of the certification process concerning traditional healers and their practices.
The eligibility criteria for a traditional health practitioner is that s/he has to be minimum 28 years if age and have endorsement of the village panchayat, which also proves that s/he is known and genuinely practicing. To ensure the skill level as well as the safety of the healing method, the knowledge of the healer is then assessed by a third party committee, which besides a technical expert and an AYUSH or allopathic doctor includes also a senior traditional health practitioner. The certification is valid for five years at a time for those who pass. Those who do not can go for further training and then return to the certification process. While the process bears some costs for the health practitioners, the idea is that the investment will pay back as an increasing demand for their services. During the pilot 517 traditional healers were certified from 6 states. This process then continues today.
One important issue in this discussion concerns the protection of biodiversity. In itself ecosystems can be seen as becoming more protected along with the certification giving increased recognition to the traditional healers, who will not deplete the commons they are dependent on, in contrast to commercial companies. In the accreditation process traditional healers discuss information on plants only with other traditional healers (and not to further any commercial interests). Telling of this is that the healers use some 6500 plant species, but officially only the properties of 2000 species are known. In itself the recognition of traditional health practitioners then brings to the forefront the question how can local commons be protected whilst benefiting globally, and what a tool as the biocultural rights conceptualisation also taken up by Siemenpuu offers in this.
To have people also in urban areas (to which they have migrated) continue to resort to the benefits of herbal plants and take pride in this, has been what SADED has been also supporting in urban areas, as in the slums of Delhi.
We visited the Okhla Industrial slum area, where an associate of SADED has been a very active and committed community worker, supporting on issues as water and waste. The voices of the women was rather unanimous – most of them would have liked to have stayed in their villages, and for instance not daily have to be faced with tensions around water (playing out in inhumane ways for instance with regards to sanitation), if only there was employment.
SADED has then been involved in supporting their struggles, also to local authorities, with regards to provision of water in the slum area, the development of sewage system, and now in the currently ongoing process of finding a plot for the women to be having herbs – beyond the pots the women said to be keeping at their homes. If perhaps the struggles in areas like these indeed seem so difficult to lead to any change, the testimony of a resident left no mistake to the issue; during our dialogue her hands were raised up high when calling upon her sisters that through their organisation they can stand up and further their issues.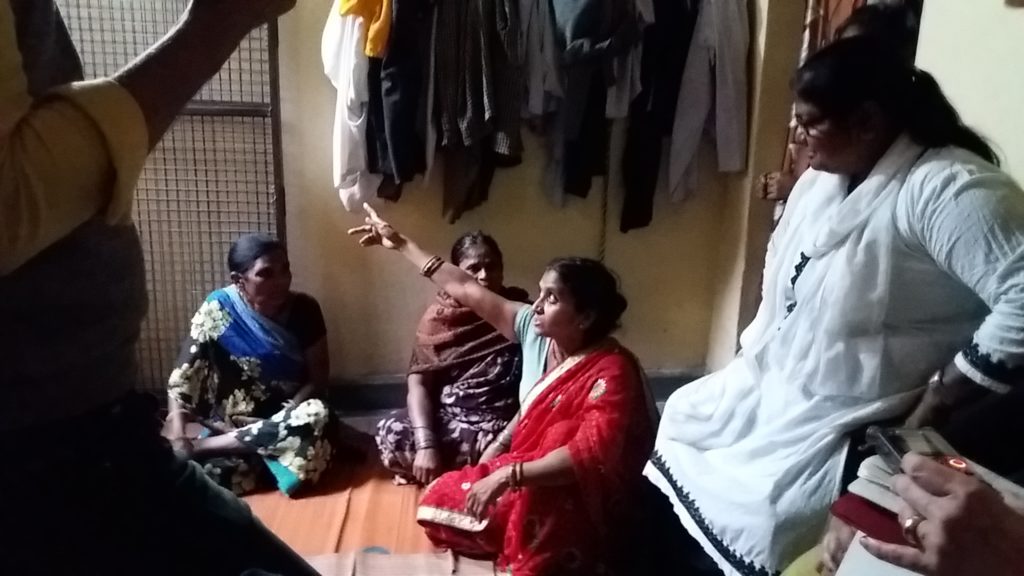 Our days with SADED ended with a round table dialogue of SADED staff and associates on ecological democracy, which well brought to the forefront the way SADED works and has worked towards change. SADED engages directly or indirectly through its associates in different levels of dialogue on a community, movement, and policy level, through which knowledge is co-produced in support of political and societal change. On several occasions the testimonies referred also to the importance of the space SADED has created for people who for different reasons are facing marginalisation or discrimination, to voice their opinions. As also taken up in the previous SADED Nepal blogg, the dialogues can be seen as forms of commoning around our commons. In Europe, bringing to the forefront commons/commoning thinking is besides putting forward a paradigm shift thinking with regards to economy, also seen as a way to transcend party politics and combat also rising fascist and authoritarian tendencies. Once again a North-South dialogue.
Satu Ranta-Tyrkkö and Ruby van der Wekken, 20.12.2017
Satu Ranta-Tyrkkö, PhD, is a researcher at Jyväskylä University and a member of the Executive Board of Siemenpuu Foundation
Ruby van der Wekken works with Siemenpuu Foundation as a Programme Coordinator